NEWS & CALENDAR OF EVENTS
The Circuit Memorial Service will be held at the Providence Chapel on Sunday, 6th November, 2022 @ 4:30pm. This service is held in memory of members of the Circuit who (would have) passed away within the last two years. (2020 to 2022).
SPIRITUAL GROWTH & DEVELOPMENT
On Saturday November 12, 2022 at 10.00 a.m in the Donald Henry Auditorium, Bethel, the Bethel Circuit Organizations & Education Committee will be a hosting a discussion on "Spiritual Growth and Development". Everyone is encouraged to attend.
AN EVENING OF WORSHIP & SONG
You are encouraged to join the members of the Providence Methodist Church on Sunday November 13th, 2022 at 5.00 p.m. for An Evening Of Worship And Song. During the evening the importance of spiritual gifts will be highlighted. A special invitation is extended to all youth.
The Bethel Methodist Church Fundraising Committee will be hosting a Mini Flea Market and Take Away Food Sale on Saturday November 19, 2022, commencing at 10.00 a.m. and ending at 4:00 p.m. at the Bethel Church grounds. All members and friends of the Circuit are encouraged to attend.
An invitation is extended to all to attend the first "Bethel Circuit Family Day", under the theme: "Building Stronger Families for Christ". The event takes place on Sunday, November 27 at Queen's College from 9:00 a.m. until 3:00 p.m.
Let us build and strengthen our "Lord's family tree with praise and faithfulness." Come experience one awesome day of inspirational worship, fellowship, fun and wholesome activities.

You can bring your packed lunch or alternatively a prepacked lunch of Rice and Peas, Macaroni Pie, & Toss Salad with Fish or Chicken is available for purchase at a cost of $25.00. Persons interested in purchasing lunch, are requested to inform any Congregational Steward by next Sunday,
November 13th, 2022.
You are also advised to inform Congregational Stewards if you need transportation to and from the Family Day.
Volunteers are needed at the Family Day. Your time, talents and treasures are appreciated. Members are therefore encouraged to inform a Congregational Steward, Minister, or any member of the Planning Committee of their willingness to serve in any of these areas: Circuit Choir, Ushers & Hospitality Ministry, Prayer Counsellor, Dance Ministry Environmental Stewards, Car Park & Security attendants, Stage management and technical support, Play & Learning Room (up to age 5) Children & Youth Bible Study and Afternoon Learning activities.
On Wednesday, December 07, 2022, The Dalkeith Methodist Church Choir & Friends will be hosting "Repeat the Sounding Joy" commencing at 7:30 p.m. All members and friends of the Bethel Circuit are encouraged to support this event.
It's Here again!! The Bethel Circuit Fundraising Committee has a Gift awaiting you at the Lloyd Erskine Sandiford Centre on Sunday, December 18, 2022. You might be asking what is this Gift? It is the concert…….'The Gift of Music 2″ featuring the Barbados Police Service Band and other exciting artistes. Stay tuned!
PEER TUTORING / MENTORSHIP
Members are asked to note that the Bethel Circuit Organizations & Education Committee in partnership with a Secondary School in Barbados will be offering peer tutoring/mentorship for students who are enrolled in Secondary Schools (First Form to Fifth Form Students) and who are experiencing academic challenges in a specific subject area.
The peer tutoring will be facilitated by Lower 6th and Upper 6 Students who have volunteered to assist students who might be experiencing challenges academically. The programme is pro bono (free of cost) and will be coordinated virtually once per week, based on the availability of each individual.
Should there be any parents who are desirous of seizing this opportunity, you are encouraged to make contact with Sis. Natalie Phillips via mobile at 234-0750.
STUDY TIMETABLE / TIME MANAGEMENT SCHEDULING
The Bethel Circuit Organizations & Education Committee will be offering Study Timetables/Time Management Schedules to students who are challenged with organizing assignments/homework/School Based Assessments.
Should there be any parents who are desirous of having this document crafted for their children, you are encouraged to make contact with Sis. Natalie Phillips via email at natsuze28@gmail.com or via mobile at 234-0750 to organize accordingly.
BIBLE STUDY & PRAYER FELLOWSHIP
Please note that the weekly Circuit Bible Study & Circuit Prayer Meeting sessions have resumed via the Zoom platform.
Meeting Info for

Bible Study

: Tuesdays @ 7:30pm
Meeting Id: 875 6817 4271; Passcode: 074642.
Meeting Info For
Prayer Fellowship
: Thursdays @ 7:30pm
Meeting ID: 858 3350 7159; Passcode: 124990.
AS PART OF THE OUTREACH AND DISCIPLING plan for Church to keep in closer contact with one another, members are being invited to become part of a WhatsApp Church Group. Therefore, members are being encouraged to submit their cell phone numbers to either Sis. Susanna Holder, Sis. Ruby Best or Bro. Patrick Welch. It will also contribute to the membership database of the Church.
TELEPHONE ASSISTED EVANGELISM
This is a reminder to all those who are interested in Telephone Assisted Evangelism: Please use this time to share that Jesus Christ is the real reason for the Christmas season. Remember Jesus is counting on us. For further information you may contact Sis Evelyn McCollin. Phone 271-8519; Email- emccollin@gmail.com.
BUILDING FUND COLLECTION

A Building Fund Collection will be taken every 4th Sunday monthly.
COVID-19 PROTOCOLS WHILE ATTENDING WORSHIP

ALL PERSONS ATTENDING WORSHIP are reminded that the following Government of Barbados protocols must be adhered to:
– Have their hands sanitized
– Wear a mask to cover your Mouth and Nose.
– Place tithes and offerings in the baskets on arrival.
– Maintain physical distancing of 3 feet between each worshipper. However, families can sit together.
– Hymnals and Bibles should be brought from home.
– Those at the sanctuary will not be available
– There is to be NO congregating before or after worship.
GENERAL ADHERENCE TO COVID-19 PROTOCOLS

Please continue to stay safe by adhering to the protocols, especially those of wearing your masks to cover your nose and mouth, sanitizing your hands regularly and maintaining a physical distance of 3 feet from the person closest to you.
THANK YOU

The Mission and Evangelism committee, coordinators of the Five Loaf Two Fish Ministry, wish to thank you the Providence Congregation for your generous and committed donations to this ministry. You have given very well since it
started. You are being encouraged to continue your donations in cash, nutritious food items and toiletries since this
ministry is still continuing. Families within this congregation as well as families in the community who have been
impacted by The Covid pandemic are still being assisted. They are very thankful for your help. Nothing is too small. PLEASE
CONTINUE TO GIVE to the Five Loaf Two Fish Ministry of this Providence Church. Give and be blessed.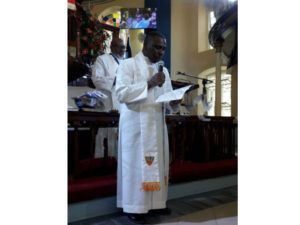 THE SOUTH CARIBBEAN DISTRICT CONFERENCE 2018 has elected Rev. Derick A. Richards as President/Bishop of the District effective September 1, 2018. He will serve for the triennium 2018-2021.
Rev. Richards was inducted on the 26th August 2018 at a service at the James Street Methodist Church, Barbados.
WELCOME GABRIELLA & JASMINE!
Twin sisters Gabriella and Jasmine became the newest members of the Providence congregation during the Sacrament of Holy Baptism on the 27th May 2018.
During the Sacrament of Holy Baptism on the 28th January 2018, the congregation welcomed little Kayla Webb.
ORDAINED!
On behal

f of the congregation at Providence congratulations are extended to our Minister Capt. Rev Al Walcott who was ordained in St. Vincent on Thursday 18 January 2018. You are encouraged to remember him and his family in your prayers
The Providence Church Annex was rededicated on December 31st, 2017 during a short ceremony that was led by Rev. Al Walcott. The annex now boasts of improved facilities and will be utilised as we continue our recovery efforts from the loss of the auditorium.